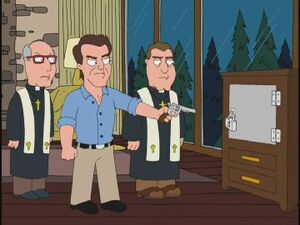 Mel Colm-Cille Gerard Gibson, AO (born January 3, 1956) is an American actor, film director, producer and screenwriter.
In "North by North Quahog", Peter Griffin impersonates Gibson in order to gain access to his posh penthouse in the Park-Barrington Hotel. While in Gibson's suite, Peter steals the film for The Passion of the Christ sequel, titled The Passion of the Christ 2: Crucify This.
When Peter tries to sabotage the film, Mel Gibson's people respond by kidnapping his wife, Lois, and taking her to Mel Gibson's house on top of Mount Rushmore. Feigning to meet Mel Gibson's demand, Peter returned the film's canister to Gibson with a dog turd in it. In response to being thus hoodwinked, Gibson pursues Peter and Lois on (literally) the face of Mt. Rushmore. Gibson delivers an ultimatum for the film, and Peter indicates that he put it in "President Rushmore"'s mouth. Gibson tries to walk to President Rushmore to retrieve it, and as a result, falls off the mountain hundreds of feet since, according to Peter, Christians don't believe in gravity. In this episode, Mel is voiced by Rick Kuhlman.
In "Prick Up Your Ears", his apology for anti-Semitic remarks made to a police officer for his arrest for drunk driving in 2006 is parodied.
He appears in his role from Braveheart in "No Chris Left Behind".
Jesus blames all the world's wars on the Jews during his arrest in "I Dream of Jesus", just as Gibson did in 2006.
In "Brothers & Sisters", as Carol talks to Peter over the phone, he at first does not recognize her and angrily yells "give me back my son!" This is the same quote uttered by Gibson in Ransom.
Community content is available under
CC-BY-SA
unless otherwise noted.