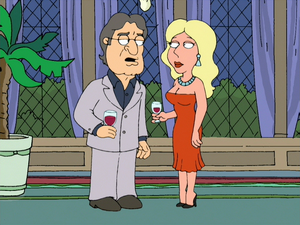 Michael Kirk Douglas is an American actor and producer, primarily in movies and television. Douglas's first television exposure was that of Karl Malden's young college-educated partner, Insp. Steve Keller, in the 1970s crime drama, The Streets of San Francisco, a role he played from 1972 to 1976. Douglas is an Emmy Award-, Golden Globe Award- and two-time Academy Award-winner, first as producer of 1975's Best Picture, One Flew Over the Cuckoo's Nest and Best Actor in 1987 for his role in Wall Street. He was nominated for Best Supporting Actor in its sequel. Douglas received the AFI Life Achievement Award in 2009.
He appears in "Family Guy Viewer Mail" at a Hollywood party with wife Catherine Zeta-Jones. He asks women if they'd have sex with them;
He appears in Barely Legal in his role in Romancing the Stone.