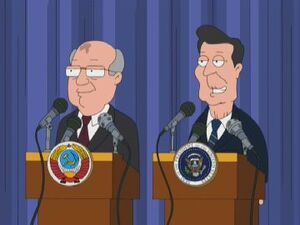 Mikhail Sergeyevich Gorbachev (born March 2, 1931) was the second-to-last General Secretary of the Communist Party of the Soviet Union, serving from 1985 until 1991, and the last head of state of the USSR, serving from 1988 until its collapse in 1991. Gorbachev's attempts at reform as well as summit conferences with United States President Ronald Reagan and his reorientation of Soviet strategic aims contributed to the end of the Cold War.
Gorbachev and Ronald Reagan's summits have an interesting meaning in Family Gay.
Community content is available under
CC-BY-SA
unless otherwise noted.