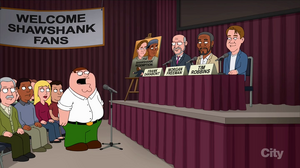 Morgan Freeman (born June 1, 1937) is an prolific American actor and narrator for such work as Million Dollar Baby, Driving Miss Daisy and The Shawshank Redemption.
While trying to figure out what teenagers like in "Ready, Willing, and Disabled", Stewie guesses Morgan Freeman.
In "Sibling Rivalry", Freeman narrates his daily life in a television film titled The Narrator.
In "Hell Comes to Quahog", Diane Simmons refers to an electric cooperative as The Electric Company and a parody of the opening of the children's television show plays, which included Morgan Freeman as a cast member.
In a parody of The Shawshank Redemption in "McStroke", Mr. Monopoly is beaten up by three homosexual prisoners who want to rape him. As declared by Morgan Freeman, he had no chance of winning.
In "And Then There Were Fewer", Carl associates names with phrases from pop culture, including Christian Slater, Morgan Freeman and "We just want the money." when Joe mentions a hard rain.
Chris believes that "Spotted dick" has something to do with Morgan Freeman in "The Most Interesting Man in the World".
Obsessed with Quagmire's Korean soap opera in "Candy Quahog Marshmallow!", Peter declares he hasn't been into something so big since The Shawshank Redemption. A cutaway shows Peter at a Q&A session with director Frank Darabont and stars Morgan Freeman and Tim Robbins questioning how the poster was replaced so tightly in the prison cell from the inside.
The ending of both plots in "Saturated Fat Guy" are given narrations in the style of Morgan Freeman.
In "Griffin Winter Games", Josh Robert Thompson calls attention to the fact that he is imitating Morgan Freeman in a voice over performance.
Community content is available under
CC-BY-SA
unless otherwise noted.