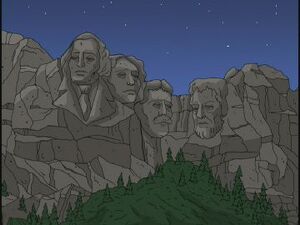 Mount Rushmore is a massive stone sculpture on the side of a mountain face in South Dakota. From left to right, the movement features the faces of George Washington, Thomas Jefferson, Theodore Roosevelt and Abraham Lincoln. The monument, which was carved and blasted from natural rock between 1927 and 1941, has become a major tourist attraction.
Lois and Peter trick Mel Gibson into falling to his death and they finish by making love on top of Mount Rushmore in "North by North Quahog".
Mount Rushmore is mentioned again in a cutaway mocking North Dakota in "Baking Bad".
During the song "Come On Home" in "Candy Quahog Marshmallow!", Peter, Joe, Cleveland and Quagmire's faces appear on Mount Rushmore when the guys try to convince Quagmire to leave South Korea after he had decided to stay.
Brian pursues a scam in "The New Adventures of Old Tom, comparing it to Theodore Roosevelt being on Mount Rushmore without having participated in a major event compared to the others.
Community content is available under
CC-BY-SA
unless otherwise noted.