Doctor Strange in The Multiverse o Madness - The Loop
Play Sound
Mr. Saturday Knight
Peter realizes his dream by becoming a Medieval Fair jouster.

Season: 3 Episode: 9
Total Episode Count: 37
Prod. no.: 3ACX04
First Aired: September 5, 2001

Guest Starring: Will Ferrell, R. Lee Ermey, Adam Carolla, Jimmy Kimmel
Featuring: Peter Griffin, Mr. Weed, The Black Knight
Also Appearing: Lois, Brian, Meg, Stewie, Chris, Ollie Williams, Death, Death's Dog, Johnson, Mort Goldman, Bruce, Jimmy Hopkins, Danielle, Rupert, Tom Tucker, Diane Simmons, Tricia Takanawa, Leonard Hale, Margot Kidder, Richard Dawson, Gene Rayburn, Betty White, Charles Nelson Reilly, Brett Somers, Jousting Drill Instructor, Renaissance Fair Jester, Maid Madeline, Barbara
Musical Numbers: So Long, Farewell

Director: Michael Dante DiMartino

Assistant Director
:
Shawn Palmer
,
Cyndi Tang
Writers
:
Steve Callaghan
Storyboarders
:
Brent Woods
Plot
: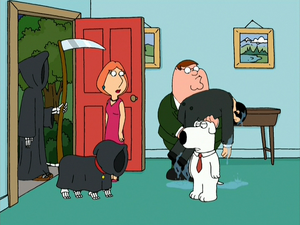 When Peter appears at "Career Day" for Chris's class, the kids are not impressed with his menial job at the toy factory; even nerdy pharmacist Mort Goldman receives a better response. Peter begins to worry that he is stuck at a dead-end job within the company, so Lois encourages him to invite his boss, Mr. Weed, to dinner. The occasion proceeds surprisingly well, and Mr. Weed is quite impressed with Peter's home, family and "funny talking dog." When he mentions that he will promote Peter to head of toy development, the shock causes Brian to start choking on a dinner roll. When Peter and Lois try to get it out with the Heimlich maneuver, it ejects out of Brian's mouth and into Mr. Weed's mouth, causing him to choke on it, and he dies. Suddenly, someone pounds on the front door and announces that the police are conducting a random dead body search; Peter panics and attempts to flush Mr. Weed's body down the toilet. Death enters and admits that he was just joking about the police search.
At Mr. Weed's funeral, Peter pathetically attempts to convince his co-workers of Mr. Weed's dying promise to promote him via a mustachioed hand puppet. Weed's videotaped will, however, reveals that immediately after his death, the Happy-Go-Lucky Toy Factory is to be demolished to make way for the Happy-Go-Lucky Terminal Disease Institute. As promised, the building is immediately razed and all workers are fired.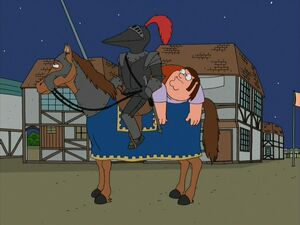 Peter experiences difficulties in finding a new career, and even tries to become a cheap hooker. Lois reminds him of his long-standing dream of becoming a Renaissance Fair jouster. In a flashback, Peter remembers how he had a bad acid trip as a teenager. He jumped from a roof while attempting to fly and was saved by the Black Knight on horseback. Peter enrolls in joust training with Mort Goldman, displaying enthusiasm but little patience for speaking in "ye"s and "thou"s. When the Black Knight's girlfriend flirts with Peter, the Knight bullies him into leaving the Fair. Peter remains inconsolable despite his family's encouragement but decides to watch the joust from the stands.
Unsurprisingly, the Black Knight defeats all challengers, inspiring Mort to flee in terror before their horses near each other. The Knight notices Peter in the stands and begins berating him. Suddenly determined to defeat the Black Knight, Peter challenges him. Certain doom is averted when the Black Knight is distracted by an announcement that his Hyundai is being towed by a vengeful Mort. Peter unhorses him and wins the competition. Peter refuses an offer to join the Ren Fair as their new champion jouster, and the family leaves for home.