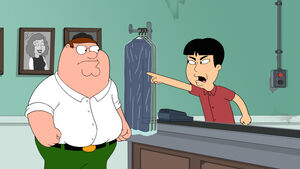 Mr. Washee Washee is the owner of Super Cowboy USA Hot Dog Rocket Ship American Cleaners Number One.
He supposedly stole a shirt that belonged to Peter Griffin in "Tiegs for Two". He is angered by Peter so much that he bans him from the store. Peter later apologized to Washee Washee and invited him for dinner. There, Peter brings up the shirt, once again angering Washee Washee, who then bans the entire Griffin family. Later, Peter invades Washee Washee's home only to discover that a similar white shirt isn't Peter's. Peter begins fighting Mr. Washee Washee in a fashion similar to Street Fighter II, which ends in Peter ultimately losing and ending up in jail.
Lois, had been using Mr. Washee Washee's dry cleaners for 10 years. It is shown that he is a fan of Star Trek, but focuses solely on the Mr. Sulu character.
In "The Finer Strings", Peter takes up violin lessons with Mr. Washee Washee at his dry cleaners in an effort to get back into the guy's string quartet, but Mr. Washee Washee's lessons involve burning Peter's bare back with a hot iron. When the guys see the lengths that Peter is willing to go to, they allow him back into the group where he performs admirably, but after his performance, destroys his violin due to the mental scarring at the hands of Mr. Washee Washee.
Mr. Washee Washee is seen at the drug den in "Follow the Money".
He is voiced by Robert Wu.
Community content is available under
CC-BY-SA
unless otherwise noted.