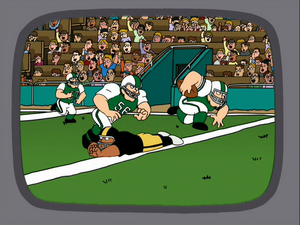 The New York Jets are a professional American football team headquartered in Florham Park, New Jersey, representing the New York metropolitan area. They are currently members of the Eastern Division of the American Football Conference (AFC) in the National Football League (NFL). In a unique arrangement, the Jets share New Meadowlands Stadium in East Rutherford, New Jersey with the New York Giants. The team's training facility and corporate headquarters, which opened in 2008, are located in Florham Park. In addition, the team holds training camp on the campus of the State University of New York at Cortland (SUNY Cortland) in Cortland, New York. The team previously headquartered and trained at Hofstra University in Hempstead, New York on Long Island for a span of forty years.
In "Lethal Weapons", they played the Pittsburgh Steelers. The game was seen on television in The Drunken Clam. It was put on as requested by the leafers from New York, while Quahog natives wanted to watch the New England Patriots game. The Patriots and Jets are AFC East division rivals, leading to a fight between the groups of bar patrons.
On the January 4, 2011 episode of Around the Horn[1], host Tony Reali, while explaining Jets head coach Rex Ryan's news conference leading up to a wild card playoff game against the Indianapolis Colts, inserts Glenn Quagmire's catchphrase "Giggity giggity" following Ryan's statement "You lose a playoff game and it's devastating. I wanna put the shoe on the other foot.". As part of panelist and Los Angeles Times columnist Bill Plaschke's argument, he calls Ryan the "Peter Griffin" of the NFL, because of their being overweight and white and green clothing. He tries to get more points because he provided his own Family Guy reference. After his elimination, Plaschke is asked to do an impersonation of Griffin, and does so poorly.
Community content is available under
CC-BY-SA
unless otherwise noted.