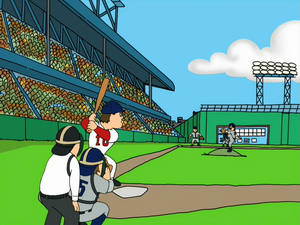 The New York Yankees are a professional baseball team based in the borough of the Bronx, in New York City, New York. They belong to Major League Baseball's American League East Division. One of the American League's eight charter franchises, the club was founded in Baltimore, Maryland in 1901 as the Baltimore Orioles and moved to New York City in 1903, becoming known as the New York Highlanders before being officially renamed the "Yankees" in 1913. From 1923 to 2008, the Yankees' home ballpark was Yankee Stadium, one of the world's most famous sports venues. In 2009, they moved into a new stadium, also called "Yankee Stadium". Their rivalry with the Boston Red Sox is arguably the fiercest and most historic in North American professional sports.
In "Mr. Griffin Goes to Washington", they play the Red Sox on Opening Day of the new season at Fenway Park. Peter, Lois, Chris, Meg, Brian, and Stewie Griffin, as well as Jonathan Weed and Jeremy the Terminally ill Boy, all are in attendance for the game. During the game, a Yankees pitcher gives up a home run to the Red Sox batter. Jeremy is about to catch the ball when Peter snatches it from him. Peter gives the ball to his son Stewie, as a souvenir from his first baseball game. Later in the episode, Peter is given an intern to follow him around and suck up to him. The intern tells him that the Yankees are doing well but Peter replies saying he hates him and the intern takes it back; calling them cheaters.
The Yankees are mentioned in the Dyslexic Baseball Wrap Up in "The Giggity Wife".
Community content is available under
CC-BY-SA
unless otherwise noted.