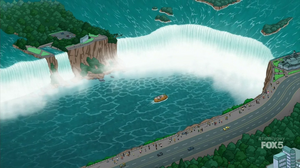 Niagara Falls is the collective name for three waterfalls that straddle the international border between Canada and the United States between the province of Ontario and the state of New York.
Joe takes the guys on a road trip to Niagara Falls in "#JOLO", only for them to find out that he plans on committing suicide while there because his disability makes him feel like less of a man than he used to be. The guys manage to save him after he gets caught in a tree, only to have him try again, forcing them to tie him up to a bell cart back in their hotel room.
When they decide to go ahead and see the sights on their trip, Joe nearly escapes from an aerial tram over the falls, only to have the guys fall out instead. Joe is forced to use his wheelchair to catch up as they are swept downstream towards the falls, climbing out onto a tree limb so the guys can climb up his legs to safety.

Meg visits several shopping malls with pun names in "Christmas is Coming" in search of a Santa Claus that gave her her first orgasm, including "Niagara Malls."
Community content is available under
CC-BY-SA
unless otherwise noted.