Wiki Targeted (Entertainment)
Play Sound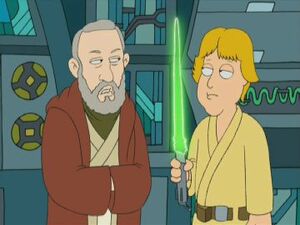 Obi-Wan Kenobi is a fictional character in the Star Wars universe. He is one of several primary characters in the Star Wars series. Along with Anakin Skywalker/Darth Vader, R2-D2, and C-3PO, he is one of the few major characters to appear in all of the six Star Wars films. He is portrayed in the original trilogy by Alec Guinness as a supporting protagonist and in the prequel trilogy by Ewan McGregor as a major character.
In "When You Wish Upon a Weinstein", Mark Hamill performed the role as well as reprising his role as Luke Skywalker. Obi-Wan advises Luke to use the force to perform laser eye surgery on a woman with a lightsaber only to pierce her eye with it.
In "The Courtship of Stewie's Father", Kenobi warns Peter Griffin that the Tusken Raiders will return after storming from choir practice in greater numbers.
In "Peter's Two Dads", Kenobi's ghost appears with Yoda, and Francis Griffin's ghost, as well as Hayden Christensen, parodying the 2004 DVD re-release of Return of the Jedi.
In "Family Goy", the ghost of Francis Griffin appears before Peter and orders him to stop supporting the Jewish faith. When Peter agrees, he asks Francis to quote Obi-Wan's quote from The Empire Strikes Back: "You must go to the Dagobah System". He does so unenthused which disappointed Peter.
Herbert played Obi-Wan in Laugh It Up Fuzzball: The Family Guy Trilogy, comprised of Blue Harvest, Something, Something, Something, Dark Side, and It's A Trap! acquiring many of Herbert's mannerisms and interests.
Filmography
Community content is available under
CC-BY-SA
unless otherwise noted.