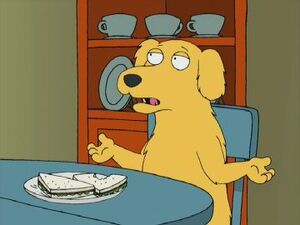 Old Yeller is a 1956 novel by Fred Gipson. The title is taken from the name of the fictional big yellow dog who is a main character in the book. It was a 1957 Newbery Honor book. In 1957, Disney released a film adaptation of Old Yeller starring Fess Parker, Dorothy McGuire, Tommy Kirk, Kevin Corcoran, Jeff York, and Beverly Washburn.
The book ends when Yeller becomes exposed to hydrophobia (rabies) after being bitten while defending the family from a rabid wolf. To prevent his friend's suffering until the inevitable death from rabies, his owner Travis tearfully shoots Old Yeller.
In "He's Too Sexy for His Fat", the dog is shot not for rabies, but for failing to relay a phone message.
Brian's "death" in "Life of Brian" is revealed in "Inside Family Guy" to have occurred so he could star in a remake of Old Yeller in which he gets the drop on his owner.
Community content is available under
CC-BY-SA
unless otherwise noted.