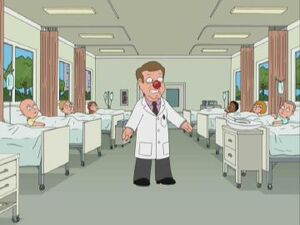 Hunter Campbell "Patch" Adams, M.D. is an American physician, social activist, citizen diplomat, professional clown, performer, and author. He founded the Gesundheit! Institute in 1972. Each year he organizes a group of volunteers from around the world to travel to various countries where they dress as clowns, to bring hope and joy to orphans, patients, and other people. In 1998 he also visited Bosnia, a war torn Balkan Peninsula country of the former Yugoslavia.
His life inspired the film Patch Adams, starring Robin Williams. Adams is currently based in Arlington, Virginia. In collaboration with the institute, he promotes a different health care model (i.e. one not funded by insurance policies).
In "Baby Not On Board", Peter Griffin thinks that sending Glenn Quagmire and Cleveland Brown over to the house to keep an eye on Stewie Griffin would be a great idea because they are good with kids, comparing them to Patch Adams. Adams is seen at a hospital entertaining dying children. The children do not find him amusing, in fact are in more pain from the routine. One child goes as far to pull his own life support plug.
Community content is available under
CC-BY-SA
unless otherwise noted.