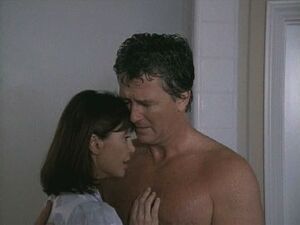 Patrick G. Duffy (born March 17, 1949) is an American character actor of stage and film. He is well known for his role of Bobby Ewing on Dallas. He also starred in the short-lived science fiction series, The Man from Atlantis and the long running staple of ABC's Friday night lineup, Step by Step with Suzanne Somers.
For "Da Boom", he and former costar Victoria Principal shot a live action spoof of the infamous Dallas scene in which Pamela Ewing wakes up and finds her supposedly dead husband Bobby in the shower, realizing that the episode, in Family Guy's case, was a dream.
He also voiced three characters in "And the Wiener is..." including a salesman and a teacher.