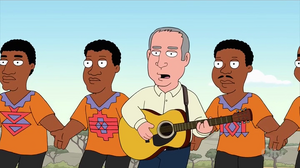 Paul Frederic Simon (born October 13, 1941) is an American musician, actor and singer-songwriter. Simon originally partnered with Art Garfunkel as part of Simon & Garfunkel, before launching a solo career.
When Peter is held prisoner by African villager's on orders from Carter Pewterschmidt in "Scammed Yankees", he writes his memoirs and sends a chimpanzee to take them to civilization, where they cross paths with Paul Simon who turns them into a song. Lois hears about the song on television and sets out for Africa for both Peter and Carter.
When Peter brags about being a natural leader and being in charge of "Simon says" in "The Peter Principal", it sets up a cutaway of Peter enforcing Paul's instructions to kick Art Garfunkel out of their band.
Community content is available under
CC-BY-SA
unless otherwise noted.