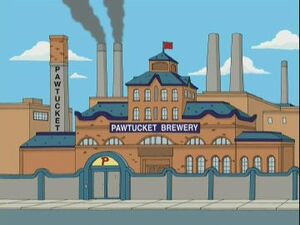 Peter's favorite beer, Pawtucket Patriot Ale, is brewed here and it is his current work facility. In "Wasted Talent", Peter tries to find the silver scroll to get a tour of the Pawtucket Brewery. The whole episode parodies Charlie and the Chocolate Factory. Peter finds the scroll and gets the tour. Sometime after this episode, Pawtucket Pat sells the brewery and Peter gets a job there in "Jungle Love".
Other employees include Angela, Peter's supervisor, Opie, and Fouad, Peter's Arab-American co-worker.
Opie would later be fired and replaced by Stella in "The Blind Side".
Peter tries to impress brewery CEO Mr. Carlisle by shooting a hawk with a crossbow while tailgating at Gillette Stadium in "3 Acts of God". While somewhat impressed, Mr. Carlisle strokes Peter's cheek and offers a promotion in other ways. Peter objects that he didn't want a promotion in the manner suggested and leaves.
In "The Simpsons Guy", it is discovered that Pawtucket Patriot Ale is just Duff beer with a new label pasted on it. Despite judge Fred Flintstone finding they are both an imitation of his Budrock, the Pawtucket Brewery loses the copyright infringement case and faces being closed until it is found that The Simpsons characters don't want to bother coming to Quahog to shut it down.
Peter's brewery job is brought up in "Peter, Chris, & Brian" by his teenage self as he optimistically looks forward to not working any of several dead-end jobs that Peter did actually obtain.
When Peter brings Tricia Takanawa word that Carter Pewterschmidt plans to use toxic materials in the beer cans of the Pawtucket Brewery after he purchases it in "Carter and Tricia", she has an affair with him and becomes a mother figure to Peter in order to record the truth. When the guys later try to extract revenge, they find that her actions are partially a result of her upbringing by her mother, Irene Takanawa.
In an effort to appeal to millennial in "HTTPete", the brewery hires Hammer, a millennial hipster to teach the staff how to appeal to younger drinkers. Peter catches on quickly and adopts the millennial lifestyle, but when Hammer is killed by a bus while texting on a hoverboard, the brewery makes Peter in charge of their program.
As of "Pawtucket Pete", Bert & Sheila, an interracial couple, have replaced Angela as Peter's managers following her death.
Community content is available under
CC-BY-SA
unless otherwise noted.