Despite Stewie's observation that with the sale of Thelma's old house, the last "white domino" on the block had fallen, the new home owner also proves to be Caucasian.
Peter's teenage porn collection contains unspecified materials that cause him to worry about being arrested.
In a video, teenage Peter speculates that as an adult, both he and Doogie Howser must be getting a lot of "ass," a notable miscalculation in that Neil Patrick Harris is openly homosexual.[1]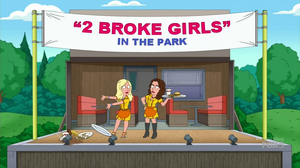 Chris ditches Shakespeare In The Park for 2 Broke Girls In The Park.
Peter's jobs at the Happy-Go-Lucky Toy Factory, as a fisherman and at the Pawtucket Brewery is brought up by his teenage self as he optimistically looks forward to not working any of several dead-end jobs that Peter did actually obtain.
Teenage Peter starts to play Conway Twitty's "Only Make Believe" until adult Peter cuts it off, calling it annoying. He later plays Kenny Loggins' "Danger Zone" while playing with nun-chucks.
The songs that Peter listens to in his car include "Iris" by the Goo Goo Dolls and Pharrell Williams' "Happy".
Brian tries to pass off The Bell Jar by Sylvia Plath as being written by Spider-Man to Chris, but returns to find Chris with his head in the oven. Lois had previously dropped a similar suicide hint to Meg in "Stew-Roids" by giving her a Plath novel and sleeping pills.
A cutaway features Mumford & Sons and specifically shows Marcus Mumford and his father. In actuality, Mumford is a member of the band, but all the other members are the same age as him and aren't related to him.
Brian incorrectly claims that Portnoy's Complaint by Philip Roth is about a man complaining about noise from a port when it is actually about a young Jewish man's sexual misadventures.[2]
Community content is available under
CC-BY-SA
unless otherwise noted.