Petey IV
Brian falls for a co-worker at a suicide hotline center.

Season: 16 Episode: 07
Total Episode Count: 296
Prod. no.: FACX04
First Aired: November 19, 2017

Guest Starring: Kristen Bell, Iwan Rheon, Jeff Probst
Featuring: Peter Griffin, Brian
Also Appearing: Lois, Meg, Chris, Stewie, Quagmire, Joe, Cleveland, Carter, Babs, Carl, Lou Spinazola, Martha, Randy, Jeff, Rocky, Ivan Drago, The Avengers, Roger Goodell, The Beatles, Lionel Richie, Ronan Farrow, Woody Allen, Soon-Yi Previn, Brigitte Nielsen, Scottie Pippen, Kevin Hart, Ice Cube, Donald Trump, Hillary Clinton, Vladimir Putin, Jeff Probst
Musical Numbers: Martha

Director: Mike Kim
Assistant Director: Max Martinez
Writers: Anthony Blasucci
Storyboarders: Mark Covell, Bao Nguyen, Michael Rundle

Plot: The episode opens with a Survivor-style recap of Brian's situation with host Jeff Probst.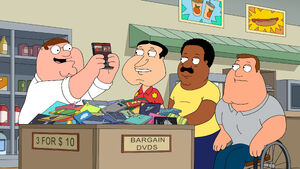 Peter manages to convince Lois to leave him behind with the guys to watch their traditional Rocky IV together to celebrate Dolph Lundgren's birthday, but they find their DVD copy won't play. They go to the Quahog Mini-Mart where they find a Russian bootleg copy in a DVD bin, but find the ending has been altered so that Rocky loses. Peter angrily writes Vladimir Putin a letter and asserts that any American can beat any Russian. A short time later, Putin arrives and takes Peter up on his fight challenge. Peter finds himself at a disadvantage with Putin's bodyguards holding him back.
However, Putin is impressed with Peter's spirit and invites him to come back to Russia with him. But there, he finds out not only about Putin fixing the Presidential election but that NFL football commissioner Roger Goodell also conspires to control football games with him. Facing a suspension of New England Patriots quarterback Tom Brady, Peter challenges Putin to a boxing match where they are are mostly evenly matched, but after seeing a hallucination of Lois from the beating, Putin and Peter settle things by dancing. In Peter's closing monologue, he reveals that Putin poisoned his tea before returning home, giving him a bad case of radiation sickness.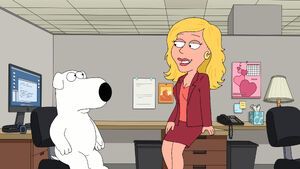 Meanwhile, Brian finds himself short on cash for the rent on his apartment so he takes up a job at a suicide hotline. He meets a hot new co-worker, but she fails to fall for his attempts to flirt. When he fails to attract her attention, he tries to use Facebook to get to know her better and ends up masturbating to images of her and her mother. At the same time, she pauses at her car and decides to give him a chance but catches him in the act when she returns. Afraid of her telling and causing him to lose his job as well as his landlord's threat to throw him out for lack of rent money, Brian decides to take his advice to frame her with drugs later at work, and she is arrested when she decides yet again to give him a chance. She attacks him and pushes his chair down a stairwell, breaking his leg. Without any other recourse, Brian licks his leg to make it better.

Community content is available under
CC-BY-SA
unless otherwise noted.