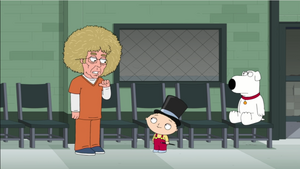 Phillip Harvey Spector (born Harvey Phillip Spector, December 26, 1939) is an American record producer, musician, and songwriter.
On February 3, 2003, actress Lana Clarkson was killed in Spector's mansion. Although arrange to look like a suicide, Spectre was found guilty in his second trial in 2009 after the first was declared a mistrial, and was sentenced to a total of 19 years in prison.
When Brian questions the production of Stewie's "Kal Penn's Pen Pal Ken in the Cal Pen", he admits he was showing off for Phil Spector who was in the prison. Phil offers a science to eat or a record deal, but a following newspaper headline notes that records are no longer being made.
Phil Spector is voiced by Josh Robert Thompson.
Community content is available under
CC-BY-SA
unless otherwise noted.