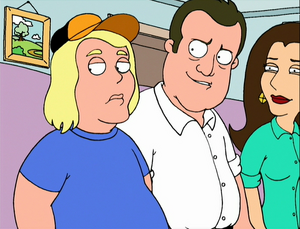 Philip Seymour Hoffman (July 23, 1967 - February 2, 2014) was an American actor and theatre director. Hoffman began acting in television in 1991, and the following year started to appear in films. He gradually gained recognition for his supporting work in a series of notable films, including Scent of a Woman, Twister, Boogie Nights, The Big Lebowski, Magnolia, The Talented Mr. Ripley, Almost Famous, 25th Hour, Punch-Drunk Love, and Cold Mountain.
In 2005, Hoffman played the title role in the biographical film Capote (2005), for which he won multiple acting awards including an Academy Award for Best Actor. He also received Academy Award nominations for his supporting work in Charlie Wilson's War and Doubt.
In "Fifteen Minutes of Shame", he played Chris Griffin in the later episodes of The Real Live Griffins after the show's recasting where he is referred to as "the fat guy from Boogie Nights".
In "Stewie Kills Lois", it is revealed that Peter Griffin has believed he played Rose DeWitt Bukater in 1997's epic Titanic. Thinking this, he corrects his wife Lois, who believes correctly that "a British chick" played the role.
Upset with Peter in "You Can't Handle the Booth!", Lois claims that Chris could possibly be Philip Seymour Hoffman's son, having slept with him 9 months before latter was born.
Community content is available under
CC-BY-SA
unless otherwise noted.