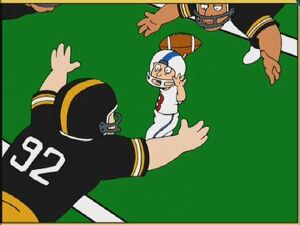 The Pittsburgh Steelers are a professional American football team based in Pittsburgh, Pennsylvania. The team currently belongs to the North Division of the American Football Conference (AFC) in the National Football League (NFL). Founded in 1933, the Steelers are the oldest franchise in the AFC. Pittsburgh has won more Super Bowl titles (six), won more AFC Championship Games (seven) and hosted more conference championship games (ten) than any other AFC or NFC team. They have played in more AFC conference championship games than any other team and are tied with the Dallas Cowboys with 14 championship game appearances in either the NFC or AFC contests. The Steelers won their most recent championship, Super Bowl XLIII, on February 1, 2009.
In "If I'm Dyin', I'm Lyin'", the Steelers played the New England Patriots. For that week, Johnny Gobraun was the starting quarterback for the Patriots. His wish, granted by the Grant-A-Dream Foundation, was to play for the Patriots in a real game. The Steelers recorded at least one sack against Gobraun.
In "A Very Special Family Guy Freakin' Christmas", they played the Patriots, who played in throwback uniforms, on Monday Night Football. When Peter Griffin dared to record the game, the FBI intervened and asked if he had the permission of both ABC and the NFL. Griffin showed he only had permission from ABC, who retained broadcast rights of Monday Night Football until the 2006 season. Because he did not have both, the FBI agents broke his VCR.
In "Lethal Weapons", they played the New York Jets. This game was the game of choice for the leafers, tourists of Quahog, Rhode Island who originate from New York.
"Mean Joe" Greene, best known for his Coca-Cola commercial which first aired September 1, 1979, was a defensive tackle for the Steelers from 1969 until 1981. The advertisement was parodied twice, in "Peter, Peter, Caviar Eater", where he not only threw Peter a Coke, but his whole uniform and in "Road to Germany" where he gave Stewie Griffin uranium in Nazi Germany.
Community content is available under
CC-BY-SA
unless otherwise noted.