Wiki Targeted (Entertainment)
Play Sound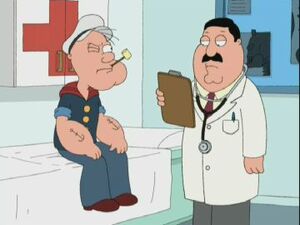 Popeye the Sailor is a fictional hero notable for appearing in comic strips and animated films as well as numerous television shows. He was created by Elzie Crisler Segar, and first appeared in the daily King Features comic strip Thimble Theatre on January 17, 1929. Popeye has now become the strip's title as well.
In "You May Now Kiss the...Uh...Guy Who Receives" he pays a visit to Dr. Hartman. Hartman informs him that the lumps in his arms are actually tumors. When Popeye tried to reply to this, it was all stuttered gibber. Hartman explained that Popeye's weird speaking pattern is caused by a stroke he had a few years ago. Popeye still being alive is deemed a miracle.
In "The Cleveland-Loretta Quagmire", Cleveland Brown, angered by his wife's betrayal, he ate a can of spinach which caused his forearms to gain muscles, just as Popeye often would.
Wimpy appears as a stroke victim in "McStroke"
Bluto was nominated for an Academy Award in "April in Quahog".
Popeye's laugh is used as part of Weenie and the Butt's sound effects at the gay pride parade in "Roads to Vegas".
Peter tries to emulate Popeye by eating spinach during the fight with three tough guys that take the booth at The Drunken Clam in "Herpe, the Love Sore", but finds the can difficult to open and the spinach watery.
A special forces agent compares Jeremy Renner to a young Popeye in "Run, Chris, Run".
Peter notes that he likes to squeeze chili cans until they pop into his mouth like Popeye's spinach in "Saturated Fat Guy".
When Peter/Noah tries to teach his son (Chris) to sail in "Holly Bibble", the latter has trouble with nautical directions. Frustrated, Noah tells him he left him a Penthouse magazine in the aft cabin. When he runs in the proper direction, Noah compares him to Popeye.