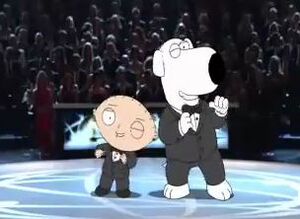 The Primetime Emmy Awards are awards presented by the Academy of Television Arts & Sciences in recognition of excellence in American primetime television programming. First awarded in 1949, they were originally referred to as just the "Emmy Awards" until the first Daytime Emmy Award ceremonies were held in the 1970s, and the word "primetime" was added to disambiguate between the two.
The Primetime Emmys generally air in mid-September, on the Sunday before the official start of the fall television season. They are currently seen in rotation among the four major networks: CBS, ABC, NBC, and FOX.
In "PTV", David Hyde Pierce experiences a "trouser malfunction" during the Emmys, resulting in a crackdown by the FCC.
Brian and Stewie sang "You Can Find It on TV" live during the 59th Annual Primetime Emmy Awards. The song was to the tune of "The FCC Song", which was featured in "PTV". As the awards aired on FOX that year on a Sunday night, the awards pre-empted the network's animation lineup.
In 2009, Family Guy became the first animated show to be nominated for the Emmy award for Outstanding Comedy Series since The Flintstones in 1961, losing to 30 Rock.
Family Guy has won Emmy awards in 2000 for Outstanding Voice-Over Performance by Seth MacFarlane for playing Stewie Griffin.
The show also won in 2002 for Outstanding Music and Lyrics for "Brian Wallows and Peter's Swallows" for the song "You've Got a Lot to See".
"Down's Syndrome Girl", performed by Stewie Griffin in "Extra Large Medium", was nominated for Outstanding Music and Lyrics in 2010. In an Emmy award category without nominations, Director Greg Colton won a 2010 Emmy Award for "Outstanding Individual Achievement in Animation" for storyboarding "It's A Wonderful Day for Pie" in "Road to the Multiverse".
"Road to the North Pole" was nominated for three Emmys in 2011: plus "And Then There Were Fewer" for an additional fourth nomination:
Music Composition for a Series (Original Dramatic Score) – "Road to the North Pole", music by Ron Jones. "And Then There Were Fewer", music by Walter Murphy.
Original Music and Lyrics – Song title: "Christmastime Is Killing Us". Music by Ron Jones, music and lyrics by Seth MacFarlane, lyrics by Danny Smith.
Sound Mixing for a Comedy or Drama Series (Half-Hour) and Animation – Patrick Clark and James F. Fitzpatrick.
Also at the 2010 awards, Stewie appeared in a live-action skit with the cast of Modern Family.[1]
During Peter and Homer Simpson's big fight in "The Simpsons Guy", Homer breaks open a display case filled with Emmys and uses them as weapons, causing Peter to complain that Family Guy doesn't have any.
Seth MacFarlane won a second Emmy for Outstanding Voice-Over Performance in 2016 for his performance in "Pilling Them Softly", his third in 2017 for "The Boys in the Band" and a fourth in 2019 for "Con Heiress".
Alex Borstein would win an Emmy for Outstanding Voice-Over Performance in 2018 for "Nanny Goats".
In "Married...With Cancer", Jess has having sex while holding an Emmy on her bucket list.
While narrating a DVD commentary in "You Can't Handle the Booth!", guest Sarah Paulson and Lois trade barbs over the Emmys. The same episode also recognizes the Emmy win by Alex.
Community content is available under
CC-BY-SA
unless otherwise noted.