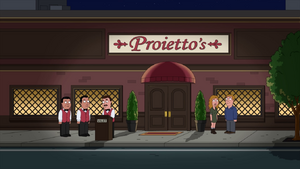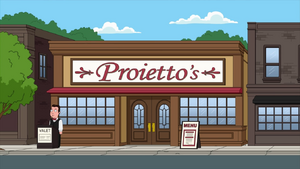 Proietto's is where Brian tries to kiss Ellie, a show dog, after a dinner date in "Boy (Dog) Meets Girl (Dog)", but is rejected when she reveals that she is under contract to breed with the winner of a dog show.
To celebrate having repaired the internet in "HTTPete", Peter and the family dine at Proietto's. However, all of the patrons and staff are so engrossed in their smartphones that they fail to notice the restaurant going up in flames around them, as Rod Serling closes out the episode comparing the events around the diners to the FOX Tuesday night lineup.
Brian and Ida have a date at Proietto's in "Bri-Da", where, despite trying to deny it, Brian is embarrassed to be seen with her. Meanwhile, the waiter has trouble processing exactly who their order is for.
When the family goes out to dinner in "Baby Stewie", Brian has a hard time getting Chris to appreciate the jokes about the family that he used to share with Stewie who has reverted himself to a regular baby.
Community content is available under
CC-BY-SA
unless otherwise noted.