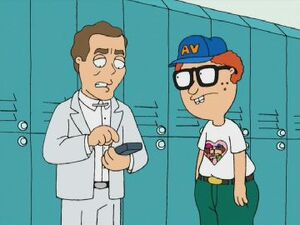 Quantum Leap is an American television series that was broadcast on NBC from March 1989 to May 1993. The series was created by Donald P. Bellisario, and starred Scott Bakula as Dr. Sam Beckett, a physicist who becomes lost in time following a botched experiment. Dean Stockwell co-starred as Al, Sam's womanizing, cigar smoking sidekick and best friend. He appeared to Sam as a hologram that only Sam and a select few others could see or hear. The series features a mix of comedy, drama and melodrama, social commentary, nostalgia and sci-fi, which won it a broad range of fans. It is particularly notable for the end of each episode, where Becket leaps into his next persona, which would lead into the story of the next episode, usually uttering "Oh boy".
In "The Kiss Seen Around the World", Neil Goldman asks, Al Calavicci, the hologram character from Leap, why he hasn't leaped.
Peter Griffin describes Jesus going through a journey similar to that of the show in "The Father, the Son, and the Holy Fonz.
Stewie's appearance at Chris and Vanessa Griffin's wedding in Stewie Griffin: The Untold Story also resembles the typical "leap" effect.
The time traveling method used by Peter, Brian, and Death is animated to resemble Quantum Leap in "Meet the Quagmires".
Stewie quotes the tag line of Quantum Leap in the dog-human role reversal universe in "Road to the Multiverse" when he says "I hope this next leap will be the leap home.".
Stewie says he learned about the rules of time travel from the TV series Quantum Leap in "Back to the Pilot".
In "Burning Down the Bayit", Quagmire looking in the mirror and seeing another person, this being Scott Bakula is a reference to Quantum Leap in which his character looks in the mirror and sees his host, another person.
Quantum Leap is parodied as Quantum Creep in "Vestigial Peter" when Sam arrives in 1972 and decides to show his penis to some kids.
Community content is available under
CC-BY-SA
unless otherwise noted.