Spider-Man: No Way Home Trailer Dropped - The Loop
Play Sound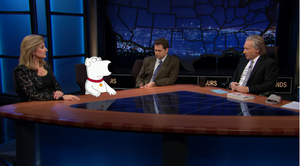 Real Time with Bill Maher is a talk show that airs weekly on HBO, hosted by comedian and political satirist Bill Maher. Much like his previous show, Politically Incorrect on ABC and Comedy Central, Real Time features a panel of guests that discuss current events in politics and the media. Unlike the previous show, however, guests are usually more well-versed in the subject matter, and there are fewer actors and celebrities included in the panel. Additionally, many guests appear via satellite. Also, Politically Incorrect was produced five days a week and was pre-recorded, while Real Time only produces one episode a week which is broadcast live.
Family Guy creator Seth MacFarlane had at least appeared twice on the show to discuss his atheism and support for gay rights, and also, more notably, to discuss with Bill Maher the controversy with Sarah Palin regarding the episode "Extra Large Medium", which featured Ellen the Down's Syndrome girl.
In "Brian Writes a Bestseller", the success of Brian Griffin's Wish It, Want It, Do It. gets him a book tour that includes a stop as guest on the show. Other guests for that week's episode include Arianna Huffington and Dana Gould. On the show, it is revealed that Gould had not read Griffin's book, Huffington calls it a waste of money, Maher points out all the flaws, and Brian gets so nervous that he admits the book is crap, and ends up urinating on the seat. For that, Maher sends Brian out with a newspaper, calling him a bad dog.