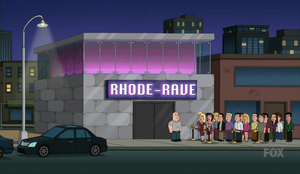 Rhode-Rave is the club where Peter and the guys become DJs in "Peter's Def Jam".
When the guys decide to turn their Drunken Clam bull sessions into a podcast, but when Cleveland's ramblings wear them out. Trying again, Peter's difficulties with running their computer after a particularly distasteful discussion result in a music mix and they are invited to DJ at Rhode-Rave.
After the act becomes a success from playing the same song for fourteen hours straight, the club owner encourages Peter to branch out on his own at the Electric Clam Festival.
Community content is available under
CC-BY-SA
unless otherwise noted.