Stewie achieves his wealth as an inventor. His creation of a 'wipeless dump' is cited.

Brian's presence in the future is explained as a pill Stewie created he calls 'Semper Fido,' in order to make him look a fool when global warming is found to be a hoax. Semper Fido takes its name from 'Semper Fi,' Latin for 'Ever Faithful' and the US Marine Corps motto.

The Quahog marina is named after Robert Kraft, owner of the New England Patriots and Gillette Stadium. Stewie says he heard he had a stroke, referring to a speech given during the presentation of the AFC division trophy presentation in 2017.[1]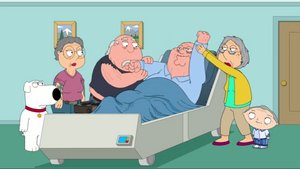 George Gershwin's "Rhapsody in Blue" plays on the phone when Cleveland is on hold.
Peter requests a slowed-down version of "Surfin' Bird" because he is old. The family aids him in dancing to it.
Peter mostly names celebrities who died after providing a guest voice on the show. However, he also includes Rodney Dangerfield who was impersonated in "Something, Something, Something, Dark Side".

Celebrities named by Peter:
Brian incorrectly claims that Frank Sinatra Jr. died on former Vice President Spiro Agnew's birthday.
Stewie hands out enough cigars for everyone, including Peter who has 'died.'
Community content is available under
CC-BY-SA
unless otherwise noted.