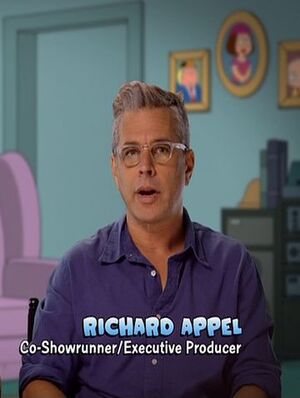 Richard Appel (born May 21, 1963) is an American writer, producer and former attorney. Growing up in Wilmette, Illinois, Appel developed a love of comedy and dreamt of a career as a comedy writer; he attended Harvard University and wrote for the Harvard Lampoon. Following in his mother's footsteps Appel instead became a lawyer. After attending law school he started out as a law clerk for Judge John M. Walker, Jr. before becoming a federal attorney, serving as assistant U.S. attorney for the United States District Court for the Southern District of New York for three years. In 1994, he moved into comedy writing when he was hired for The Simpsons, writing seven episodes of the show including "Mother Simpson". He moved on to become showrunner and executive producer of King of the Hill before creating the sitcom A.U.S.A.. He then worked on The Bernie Mac Show, Family Guy and American Dad! before co-creating The Cleveland Show. In 2012, Appel returned to Family Guy as showrunner.
Appel co-executive produced "Back to the Woods", "Play It Again, Brian", "The Former Life of Brian", and "Long John Peter". He also wrote "Family Gay".
Community content is available under
CC-BY-SA
unless otherwise noted.