Wiki Targeted (Entertainment)
Play Sound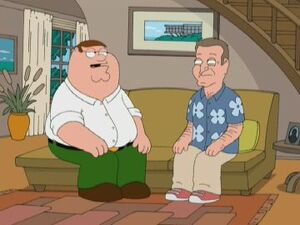 Robin McLaurin Williams (July 21, 1951 - August 11, 2014) was an American actor and comedian. Rising to fame with his role as the alien Mork in the TV series Mork & Mindy, and later stand up comedy work, Williams had performed in many feature films since 1980. He won the Academy Award for Best Supporting Actor for his performance in the 1997 film Good Will Hunting. He also won three Golden Globes, two Screen Actors Guild Awards and three Grammy Awards.
Peter Griffin helps Williams with his stand-up act by serving as his jumping-off point in "McStroke".
In an interview roleplay in "The Juice Is Loose", Stewie forcibly co-stars with Williams in a film.
Griffin refuses the Quahog Video cashier's offer to give him a DVD copy of What Dreams May Come starring Williams for free in "Brian's Got a Brand New Bag". During the performance of "Maybe", the DVD sits next to a copy of Deconstructing Harry, which also starred Williams. His face is not identifiable on the animated Harry DVD cover, but does appear on the poster that the cover uses. His square is the one with the light blue hat
Williams appears at a hospital as Patch Adams in "Baby Not On Board". Griffin believes Glenn Quagmire and Cleveland Brown are just as good with kids as Adams is. The dying children do not believe Adams is funny, one going as far as to end his own life by putting himself off life support.
Williams' agent Phil assures him he is still funny in "Big Man on Hippocampus".
Jeff Ross roasts Robin Williams in "Family Guy Viewer Mail No. 2", leading to Peter to tragically wish everyone could be Robin Williams. The August 12, 2014 rebroadcast of this episode on Adult Swim was replaced with "Chitty Chitty Death Bang", following the death by suicide of Robin the previous day.[1] The episode also aired on BBC Three moments before his death was announced.[2]
Peter gets Chris a People magazine featuring a look back at Robin for Christmas in "Don't Be a Dickens At Christmas".
Peter suggests tossing a baseball at Chris to bring him out of a catatonic state in "Boy (Dog) Meets Girl (Dog)" just as Robin did to Robert De Niro in Awakenings.
Among the television shows featured in the background during Peter's introduction to ""Family Guy" Through the Years" is an image of Williams as Mork from Mork & Mindy.
Quagmire mentions William's performance in the film Night at the Museum in "Bri-Da".
In "Movin' In (Principal Shepherd's Song)", Principal Shepherd uses Williams' catch phrase "Good Morning, Vietnam" from the film of the same name while doing the morning announcements.