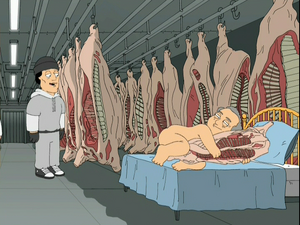 Rocky is a boxing saga written by and starring Sylvester Stallone, who plays the character Rocky Balboa, a fictional southpaw boxer. The films series has grossed more than $1 billion worldwide.
Ivan Drago appears in live action footage in Something, Something, Something, Dark Side when Luke Skywalker, played by Chris Griffin trains on Dagobah. The training montage was also parodied in "Brian Goes Back to College".
In "Petergeist", the semi-fictional film Rocky VI is shown at Joe Swanson's house. Rocky decides to challenge a Martian to a boxing match on Mars, to his wife Adrian's disapproval, parodying the series and its numerous sequels.
Rocky and Paulie are seen in "No Chris Left Behind". Rocky is admonished for beating up the meat while Paulie is sleeping with a side of beef.
Rocky's first trainer Mickey Goldmill appears in "The Cleveland-Loretta Quagmire" to encourage Cleveland Brown during his workout. In addition, the final scene of the episode parodies the final scene of Rocky III.
In "Patriot Games", during the fight between Mike Tyson and Carol Channing on FOX's Celebrity Boxing, during one of Tyson's bashings, it cuts away to two men under the ring, which is the same as the final round in Rocky III where Apollo Creed says, "He's getting beaten!" Then, the man next to him, who seems to be Paulie, says, "No, he's getting mad!!!".
In "Movin' Out (Brian's Song)", Stewie Griffin brings in Sico to cheer up Brian. Sico is the robot Rocky gave to Paulie for his birthday in Rocky IV.
In "Back to the Woods", a poster of Rocky Balboa, the franchise's actual sixth installment, is seen at the video store.
Both theme songs, "Gonna Fly Now" and "Eye of the Tiger", are heard in "Baby, You Knock Me Out", a boxing-themed episode. Peter Griffin even sings part of the latter during his wife's match with Deirdre Jackson before being interrupted by Glenn Quagmire.
The "French" film that Peter watches in "Peter, Chris, & Brian" is Rocky III.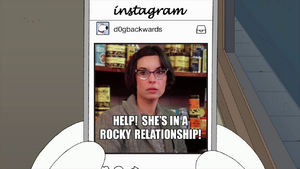 When Peter and the guys buy a Russian bootleg copy of Rocky IV in "Petey IV", they find it ends with Ivan winning the fight by cutting part of the film after Rocky gets back up from a knockdown.
When Brian notes that Principal Shepherd and his wife are in a "rocky relationship, he is inspired to create a meme of Adrian.
Community content is available under
CC-BY-SA
unless otherwise noted.