Wiki Targeted (Entertainment)
Play Sound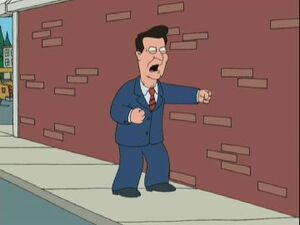 Ronald Wilson Reagan (February 6, 1911 – June 5, 2004) was the 40th President of the United States from 1981–1989 and the 33rd Governor of California from 1967–1975.
In 1994, the former president disclosed that he had been diagnosed with Alzheimer's disease earlier in the year; he died ten years later at the age of ninety-three, a debility that has been the subject of jokes on Family Guy.
Peter Griffin wears a Reagan mask in "Fifteen Minutes of Shame".
In "Brian Wallows and Peter's Swallows", Brian refers to Reagan in the song "You've Got a Lot to See".
In "Peter's Got Woods", a senile Reagan confuses a McDonald's restaurant for the Berlin Wall. He demands Mikhail Gorbachev tear the wall down, before he tries to "Reagan Smash!" it himself.
In "Meet the Quagmires", Peter hears a radio broadcast about President Reagan in 1984, surprised that Reagan, a former actor became President.
His picture appears in George W. Bush's Crawford Ranch home in "Boys Do Cry".
His official portrait appears on the walls of the White House in "Stewie Kills Lois".
In "Bill and Peter's Bogus Journey", Peter Griffin calls "Bill Clinton 'Reagan".
Reagan and Mikhail Gorbachev's summits have an interesting meaning in "Family Gay".
A photograph of Reagan appears in the FOX News executive's office in "FOX-y Lady".
In "Quagmire's Baby", Peter buys a ham-radio from him thinking he can use it to talk to ghosts and believed that he was talking to Reagan until Quagmire and Joe found out it was really Rich Little.
In "Spies Reminiscent of Us", it was revealed Reagan made Chevy Chase and Dan Aykroyd real spies, because Spies Like Us was his favorite movie.
Reagan is honored in church as Republican God in "Excellence in Broadcasting", as seen during the performance of "Republican Town".
A picture of Ronald Reagan hangs in Carter Pewterschmidt's office at Tea Party headquarters in "Tea Peter".
Brian compares his feeling with Ellie to the relationship between Ron and Nancy Reagan in "Boy (Dog) Meets Girl (Dog)". In a cutaway, Ron extracts a promise from her to ignore the AIDs crisis while focusing ineffectively on drugs.