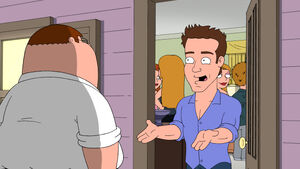 Ryan Rodney Reynolds (born October 23, 1976) is a Canadian actor. He is known for his roles in National Lampoon's Van Wilder, Waiting..., Just Friends, Definitely, Maybe, The Proposal and Buried, as well as Wade Wilson/Deadpool in X-Men Origins: Wolverine and its stand-alone film of the same name. Reynolds also starred as Hal Jordan in the DC superhero film, Green Lantern, and Matt Weston in Safe House.
Ryan Reynolds appears as himself in "Stewie Goes for a Drive" when he visits Quahog and becomes obsessed with Peter.
Reynolds cameos as the first son of God in "Jesus, Mary & Joseph".
In "Farmer Guy", a cutaway shows Peter owning a video store that only offers rentals of the film The Proposal. When a man comes in and asks for a copy of the film, Peter says nobody has returned their copies, so he offers the man a poster of the film that shows Reynolds and Sandra Bullock, and notes that you can pretty much just get the plot of the film from that.
Ryan is mentioned when Cleveland returns to his old home in "He's Bla-ack!" and discovers it has been wrecked by the previous tenants.
Lois' dressing room in "Inside Family Guy" features photographs of her embracing various past guests including Gene Simmons, Ryan Reynolds and Liam Neeson.
Ryan plays the piano for Ida Davis' lounge act in "Follow the Money".
Stewie notes that a kid with cancer at his preschool was visited by Ryan in "Send in Stewie, Please", which he thinks had something to do with Deadpool.
Community content is available under
CC-BY-SA
unless otherwise noted.