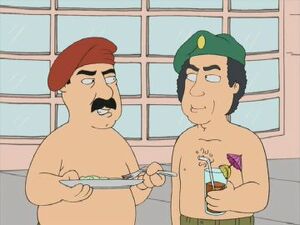 Saddam Hussein (Saddam Hussein Abd al-Majid al-Tikriti, April 20, 1937- December 30, 2006) was the President of Iraq from July 16, 1979 until April 9, 2003. He was hanged on December 30, 2006.
On Family Guy, he appears in "E. Peterbus Unum", though only briefly, first advising President Peter Griffin on how to run Petoria and then at Peter's party, talking to Muammar al-Gaddafi about the Seinfeld episode "The Junior Mint".
Hussein was also seen in "Boys Do Cry" in a picture with George W. Bush.
In "Baby Not On Board" The Griffin family visited the site of the 9/11 terrorist attacks in New York and Peter thought that Saddam Hussein was behind it, twisting Brian's logic.
Community content is available under
CC-BY-SA
unless otherwise noted.