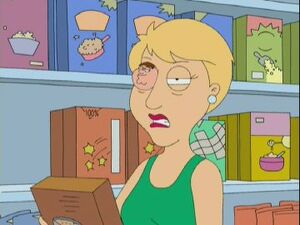 Sandra "Sandy" Duncan (Born February 20, 1946) is an American singer and actress of stage and television. Her most notable trademarks are her pixie blond hairdo and her perky demeanor. Among her most prominent roles are the title role in the Broadway production of Peter Pan, and Sandy Hogan on the sitcom The Hogan Family. In the 1970s, during her first season of the television series Funny Face, she was treated for a tumor behind her left eye, which damaged the optic nerve. She lost sight in the eye, but is still able to move it normally.
She and her glass eye were mentioned in the song "You've Got a Lot to See" in "Brian Wallows and Peter's Swallows".
Both Peter Griffin and Glenn Quagmire had jobs as her glass eye in "Jungle Love".
Community content is available under
CC-BY-SA
unless otherwise noted.