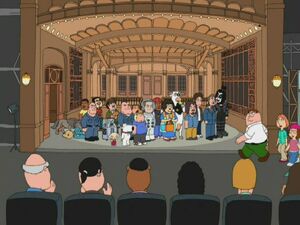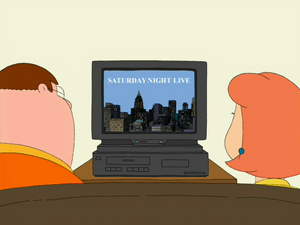 Saturday Night Live (SNL) is a live late-night television sketch comedy and variety show developed by Lorne Michaels and Dick Ebersol. It premiered on NBC on October 11, 1975, under the title NBC's Saturday Night. The show's sketches often parody contemporary American popular culture and politics.
One of its most famous early sketches, The Blues Brothers, has been parodied or referenced on the show multiple times.
In "Don't Make Me Over", Meg and the Griffins were the musical guest for an episode hosted by Jimmy Fallon. Fallon and Meg Griffin presumably had sex, which unbeknown to Meg was being filmed, and that was the episode's cold open. During the monologue, Meg's father Peter beats Fallon for looking at the camera and laughing unnecessarily during his sketches. At the end of the episode, Peter gets on stage and thanks the cast, crew, and guests, as is customary on the show.
The Ashlee Simpson lip-synching incident in the Jude Law-hosted episode that aired October 23, 2004, was parodied in "Brian Goes Back to College".
In "The Cleveland-Loretta Quagmire", Glenn Quagmire asked his enraged friend Cleveland Brown to remember the good times they had prior to the latter's wife cheating on him with the former. Among those good times was dressing up as The Ferstrunk Brothers at the local laundromat. Peter walks in, dressed as a Conehead, remarks on the awkwardness of the situation.
In "Barely Legal", Garrett Morris reprised his character as the head of the New York School for Deaf People, seen during "Weekend Update", to help Brian explain to Meg that a romantic relationship between the two of them would not work out.
In "Stewie Kills Lois", Tom Tucker concludes the news by saying, "That's the news and I...am...outta here!" and scribbling on his script. This was how Dennis Miller concluded "Weekend Update" when he was the head anchor of it on Saturday Night Live.
In "Tiegs for Two", Quagmire compares women to the sketches of Saturday Night Live.
On September 15, 2012, Seth MacFarlane hosted SNL's 38th season premiere. [1]
In "Brian's a Bad Father", former SNL cast member Jim Breuer reprises his role as Joe Pesci from the show.
Seth mentioned South Park in a counter to a Twitter rant by Presidential candidate Donald Trump, following a parody skit on Saturday Night Live on October 15th, 2016. Donald was infuriated by SNL and publicly announced that it should be canceled.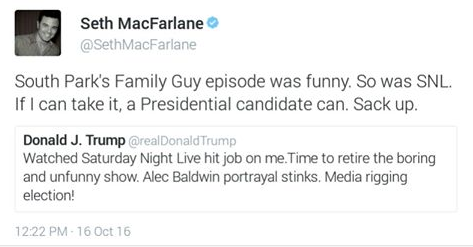 Peter has God name all of the cast members in alphabetical order ever appearing on SNL in "Are You There God? It's Me, Peter".
In "Pal Stewie", Lois finds Peter's new assertive attitude a bigger surprise than a celebrity interruption of an impersonator on Saturday Night Live.
Community content is available under
CC-BY-SA
unless otherwise noted.