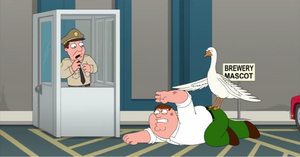 Security Officer Goosefear monitors parking at the Pawtucket Brewery.
When Peter, who had been working as the new Pawtucket Patriot mascot parks the his former space in "Pawtucket Pete", he finds he has been relegated to 'sidekick' to Brian's 'Hops the dog.' As Peter moans that things couldn't get any worse, Officer Goosefear points out that at least he's not being attacked by an aggressive goose, which proceeds to happen. As Peter tries to seek cover and help from the bread-hunting goose, Officer Goosefear shelters in his security hut.
Community content is available under
CC-BY-SA
unless otherwise noted.