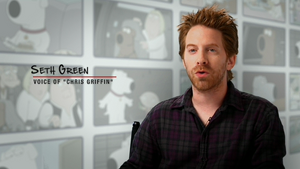 Seth Benjamin Gesshel-Green (born February 8, 1974) is an American actor, comedian, voice actor, and television producer. He is well known for his role as Daniel "Oz" Osbourne in Buffy the Vampire Slayer, as well as Dr. Evil's son Scott in the Austin Powers series of comedy films and Mitch Miller in That '70s Show. He also voices the characters of Chris Griffin and Neil Goldman on Family Guy, Lieutenant Gibbs in Titan Maximum, Jeff "Joker" Moreau in the Mass Effect video game series, and is one of the creators and producers of the stop motion comedy series Robot Chicken, in which he also voices many characters. Green appeared in many other movies, such as Rat Race, The Italian Job, Can't Hardly Wait, as a child in Stephen King's It and as Dan in the 2004 movie Without a Paddle.
With Matthew Senreich, Green co-created and writes Robot Chicken for Cartoon Network's Adult Swim, occasionally using Family Guy castmates Mila Kunis, Seth MacFarlane, Alex Borstein and Mike Henry as voices.
Green's involvement with Robot Chicken was the basis of a conversation in Blue Harvest, in which Peter derides Chris for enjoying Robot Chicken, which Chris steadfastly defends. This was then repeated in Something, Something, Something, Dark Side, along with a threat to retell Without a Paddle, in which Green's character, Danny, is very much a wimp, the butt of most jokes, and has lots of phobias.
In the first episode of season 4 of Robot Chicken, he is shown searching for a job, after the cancellation of the show. He runs into Seth MacFarlane, who makes some remarks which lead into cut-away jokes, as in Family Guy, and comments on his job as the voice of Chris.
In It's A Trap!, Darth Vader and Emperor Palpatine, played by Stewie Griffin and Carter Pewterschmidt respectively, use their criticisms of Green to incite anger in Luke Skywalker, played by Chris Griffin. After the end of the story, Chris asks his father Peter, who told the story, what he has against Green. Chris fights back by criticizing MacFarlane, who voices Peter, Stewie, and Brian.
Community content is available under
CC-BY-SA
unless otherwise noted.