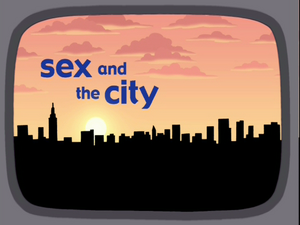 Sex and the City is an American cable television and film series. The original run of the show was broadcast on HBO from 1998 until 2004, for a total of ninety-four episodes.
Set in New York City and based on the book of the same name by Candace Bushnell, Scott B. Smith and Michael Crichton, the show focused on four American women, three in their mid-thirties and one in her forties. The quirky series had multiple continuing storylines and tackled socially relevant issues such as sexually transmitted diseases, safe sex, and promiscuity. It specifically examined the lives of big-city professional women in the late 1990s/early 2000s and how changing roles and expectations for women affected the characters.
In "You May Now Kiss the...Uh...Guy Who Receives", Brian tries to understand the idea behind Sex and the City, wondering if it's about "three hookers and their mom".
In "Bango Was His Name Oh", Lois tries to teach Chris how to talk with girls by making him memorize the characters of Sex and the City. When Chris fails to name all of the girls, Lois orders a torturer called Endo to give him electroshocks.
Penelope notes that she has a large gun with the intention of killing the women of Sex in the City in "Mr. and Mrs. Stewie" although she laughs that time is doing it for her.
One of Meg's kidnappers joke in "Leggo My Meg-O" about Meg getting her "shish kabobbed"; a joke he heard from Samantha on Sex in the City.
In "Christmas is Coming", Lois imagines Meg's love life being like Sex with the City, misnaming Sex and the City.
Community content is available under
CC-BY-SA
unless otherwise noted.