[For a complete script, see: "Shanksgiving" at the Transcripts Wiki]
---
Lois: We having people over! I just got off the phone with my mom and all the Pewterschmidts are coming here for Thanksgiving.
Peter: I can't believe you invited the whole family. You know I hate big Thanksgivings.
Lois: Don't worry, Peter. It's gonna be fun and I can handle most of the prep, myself. I just need you to go to the market and get some extra napkins.
Peter: That's not so bad.
Lois: Oh, and pick up some wine for the adults.
Peter: I can do that.
Lois: And put the extra leaf in the dining room table.
Peter: FUUUUUUUUUUUUUUUUUUUUUUCK!!!!!!!!!!!
---
Joe: Bonnie's sister is married to a real show-off.
[Cutaway to Bonnie's sister visiting]
Bonnie: Denise, Wendell, it's great to see you.
[Wendell enters, being a man with ALS]
Joe: Wendell.
Wendell: Joseph.
Joe: It's just Joe, I think you know that.
---
Cleveland: Donna's cousins are two thirds of Tony! Toni! Toné!
Peter: Which ones?
Cleveland: The "E" and the "I".
Peter: Aw, no Tony with a "Y".
Cleveland: That is correct. We lack the alpha Tony.
---
Ida: I wish I had given you more siblings, Glenn.
---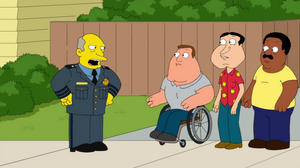 Police Superintendent Chalmers: Swanson!
Joe: Police Superintendent Chalmers!
Police Superintendent Chalmers: My brother is superintendent of the schools in Springfield. Our parents divorced, when we were very young. I was raised entirely by our mother. He, by our father. We've never met. There's a lot of backstory and you four are under arrest!
---
Prison Bus Driver: You guys think your the first ones to have this idea? The jail's already full of dads, getting out of Thanksgiving.
---
Brian: You have prison pen pals?
Stewie: Yes, a lot of people write prisoners. Even Hollywood celebrity, Kal Penn.
Brian: Kal Penn writes a prisoner?
Stewie: Yeah, Ken. He lives in California. You've never heard of Kal Penn's pen pal, Ken in the Cal Pen?
Brian: How could I possibly have heard of Kal Penn's pen pal, Ken in the Cal Pen?
---
[Cleveland joins the Black Mafia]
Cleveland: I am Kareem Abdul Jableveland.
Peter: You know Muslims can't drink alcohol, right?
[Cleveland quits the gang]
Cleveland: I am Cleveland Hurricane Carter.
---
Stewie: Okay, so, ... so, what I need is someone I can work with ... Can you be that person?
---
[Carter plays Heads Up and his show is Gilligan's Island]
Lois: Okay, it's a show.
Carter: Annie, Get Your Gun.
Meg: No, it's on TV.
Carter: Oh, ... Poirot?
Lois: What is that? I've never heard of that.
Babs: It's a Belgian detective on PBS, we just love it.
Chris: It's about seven castaways. There's a professor and a millionaire and a movie star!
Carter: Poirot!
Brian: No, we already said it's not Poirot. It's about people who took a three hour tour ...
Carter: No it's not, it's about a Belgian detective. It's on PBS.
Lois: The title character is played by Bob Denver.
Carter: It's pronounced David Suchet.
Stewie: Who's that?
Chris: I'm gonna guess Poirot.
Meg: It's not Poirot!
Lois: Dammit, just pass!
[Carter skips it and it goes to Roman J. Israel, Esq.]
Lois: Okay, this is a movie ...
Carter: Roman J. Israel, Esq.!
---
Peter: Come on, Peter. It's him or you and ... and he's not so great. Don't forget he's the one who told you all those Schoolhouse Rock! spoilers. I had no idea that bill would become a law.
Community content is available under
CC-BY-SA
unless otherwise noted.