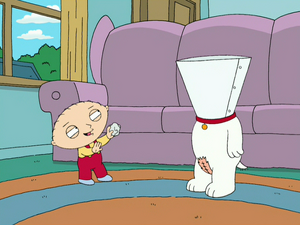 Although Brian considers getting neutered in this episode, a cutaway gag in "Blind Ambition" suggests Brian was already neutered when he is forced to wear a cone to keep from chewing out his stitches.
Chris and Meg only appear in the final scene of the episode, with the former having no speaking lines.
This episode calls back to Brian's time as a stray; we saw Peter adopting Brian in "Brian: Portrait of a Dog".
Brian sees a Volkswagen Karmann Ghia, a German-made car with a body designed by the Italian firm of Carrozzeria Ghia.
The Jewish Party song is sung to "Hava Ngila."
Brian notes that Shredder used to drink a lot and try constantly to get laid, saying it was hard to connect with someone like that. Stewie agrees, subtlety joking how everything Brian said about Shredder accurately applied to himself.
Stewie mentions a relocation of Seinfeld to Chicago, following a trend of several shows being located in that city that was noted over the previous few years.[1]
Brian crosses author Charles Dickens for his character of his book, David Copperfield.
Cleveland claims to have never seen Donna's real hair underneath her wig before, despite having seen it multiple times, during The Cleveland Show.
The Golden State Warriors uniforms are blue & white when they should be blue with gold.
Community content is available under
CC-BY-SA
unless otherwise noted.