Spider-Man: No Way Home Trailer Dropped - The Loop
Play Sound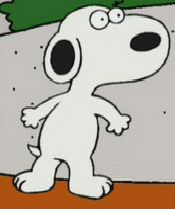 Snoopy is Charlie Brown's beagle dog from the Peanuts cartoons.
In "Brian in Love", Brian is recalling his dream, based on Logan's Run. When Brian is caught, attempting to be a "Runner," he points to Snoopy and claims he should be in his 50s.
In "Brian Goes Back to College", as Brian is thrown out of The New Yorker's headquarters for dropping out of college, a sign "No Dogs Allowed" is hung on the door, and Brian climbs onto the roof of Snoopy's doghouse.
In "Road to Europe", Stewie and Brian sing "You and I are So Awfully Different" as a diversion to steal a camel. In one exchange, Brian says, "Oh come on, you look like Charlie Brown," to which Stewie replies, "Bite me, Snoopy."
In "Model Misbehavior", Stewie gives Brian a "compliment sandwich" when evaluating his work performance under Stewie's new pyramid scheme business called Cash$cam. His compliment portion is that Brian's resemblance to Snoopy makes him smile.
In "North by North Quahog". Peter wants to steal Mel Gibson's sequel to The Passion of the Christ, The Passion of the Christ 2: Crucify This, from his hotel room. When Lois suggests this might not be a good idea, Peter replies that they must get rid of it for the sake of Jesus, Snoopy and all the other beloved children's characters.
At the Peanuts reunion seen in "Mother Tucker", Charlie Brown, a drug-addicted, skank-dating, middle-aged man, breaks down in tears after revealing Snoopy and Woodstock are dead and that he had supplied the drugs leading to their demise. He claims that he doesn't care about Woodstock, but that Snoopy did not deserve it.
In "Love, Blactually," Brian and Stewie both dress up as Snoopy for a costume party, much to Stewie's disappointment. Woodstock is later seen following Brian around, and Brian does Snoopy's famous dance.
In "Play It Again, Brian," an artist draws Brian and Lois as Snoopy and Jane Jetson, respectively.
In "Halloween on Spooner Street," Stewie's trick-or-treat candy is stolen by a group of older kids. When Brian confronts them later to try getting it back, one of the kids mocks, "Hey look, it's Snoopy! Hey Snoopy, where's Woodstock?"
In "Brian Writes a Bestseller," Brian appears as a guest on Real Time with Bill Maher to discuss his new bestseller, Wish It, Want It, Do It.. Offended by Arianna Huffington, he says to her, "What the hell is your problem, Zsa Zsa?" Arianna in her defense then replies, "What is yours, Snoopy?"
When Stewie tells Chris that he can't always get things right in "Turkey Guys", he sets up a cutaway of Snoopy's "original "Happy Dance"" in which Snoopy does a bump and grind against Lucy van Pelt.
Peter cries like Snoopy in "Papa Has A Rollin' Son".
Stewie tells Brian that Rupert used to call him names in "Dog Bites Bear", including "Poopy Snoopy."
As an insult, Quagmire refers to Brian as 'Snoopy' in "Adam West High".
After getting severely injured trying to prove he's part cat after getting a genetic test done in "Fecal Matters", Stewie tries to cheer Brian up by providing his own analysis, claiming that he's 10% Snoopy.