Stand By Meg
Stewie becomes attached to Meg.

Season: 17 Episode: 06
Total Episode Count: 315
Prod. no.: HACX05
First Aired: November 11, 2018

Featuring: Meg Griffin, Chris Griffin
Also Appearing: Stewie, Lois, Peter, Brian, Principal Shepherd, Kevin Swanson, Neil Goldman, Dr. Hartman, Rocko, Mr. Tony, The Michelin Man, Fred Sanford, Zooey Deschanel
Musical Numbers: Grape Song, The Farmer and the Cowman, The Flesh Failures (Let the Sunshine In)

Director: Jerry Langford

Assistant Director
:
Orlando Gumatay
Writers
:
Billy Domineau
Storyboarders
:
Rob Bou-Saab
,
Francis Dinglasan
,
Dave Sherburne
Plot
: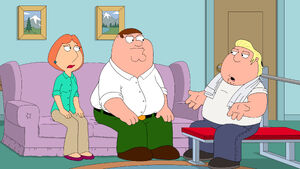 When Chris is failing in his classes, he is enrolled in vocational school auto shop. Surrounded by Italian students, he soon adopts their manners. Peter and Lois try to get him back into regular classes but Principal Shepherd refuses their request. They also have trouble convincing Chris until Peter uses an Italian trick of convincing him that he's hurting his mother. During the Feast of San Gennaro, Chris hides outside of the principal's apartment and confronts him with a gun, but only tricks him into letting him back into the regular high school. Back at home and thinking everything is back to normal, he finds himself in trouble with the police for assaulting the Michelin Man at the behest of his Italian friends.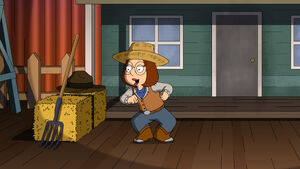 Meanwhile, when Meg gets drafted to take Stewie to a birthday party, she saves him from choking on an unpeeled grape. Seeing her abused by Peter and Lois, he vows to help her, but his attempt to make her popular at school by making her the star of all the school plays fails. While trying to figure out another way to help her at Quahog Cafe, Kevin Swanson sets about trying another suicide attempt. They convince him to take Meg on a date first and take over the Chez Lounge restaurant they have reserved, but didn't plan on a large crowd of dining reviewers. Back home and thinking they failed, they find Meg thrilled that she dumped Kevin because he was such a mess and it made her feel better about herself. Pressed for time, Stewie and Brian find their ending finished in little clips.

Community content is available under
CC-BY-SA
unless otherwise noted.