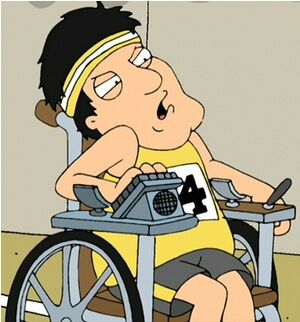 See also: Steve (Disambiguation)
Steve is a disabled professor who first appeared in "Ready, Willing, and Disabled". In that episode, he was another competitor in the Special People's Games, up against Joe Swanson. He tried to talk Joe out of it on several occasions. He and his wife Helen have motor neuron disease, the same disease as Stephen Hawking. Coincidentally, they are both professors, and bear the same name.
He also appeared in "Brian the Bachelor" as another contestant on The Bachelorette, against others including Glenn Quagmire and Brian.
He appears in "Brian Goes Back to College" as a professor at Brown University, providing once again a nemesis for Brian. He is married at this point to Helen.
He and wife Helen go camping in "It Takes a Village Idiot, and I Married One" and sing "She'll Be Coming 'Round the Mountain".
Steve streaks across the field at Fenway Park during a Boston Red Sox game in "The Old Man and the Big 'C'", although Steve mentions that it was unintentional.
He is voiced by Fred (speech) MacOSX Leopard.
Community content is available under
CC-BY-SA
unless otherwise noted.