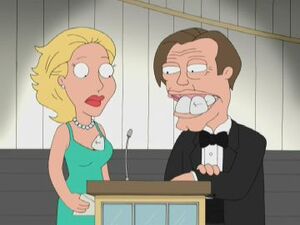 Steven Vincent "Steve" Buscemi (born December 13, 1957) is an American actor, writer and film director. An associate member of the renowned experimental theater company The Wooster Group, Buscemi is best known to the general public for his appearances in movies like Miller's Crossing, Barton Fink, Reservoir Dogs, Pulp Fiction, Desperado, Fargo, Con Air, The Big Lebowski, Armageddon and Big Fish. Buscemi is also known for playing Tony Blundetto in the hit drama series The Sopranos and Nucky Thompson in the 2010 HBO drama series Boardwalk Empire.
He appeared in "Road to Germany" as a presenter at the Academy Awards with Scarlett Johansson. Peter Griffin notes "Every one of his teeth is in business for itself". One of his teeth leave to go to the Elton John party while another jumps into Scarlett's cleavage.
A real image of Steve appears as Peter's passport photo in "Boopa-Dee Bappa-Dee" as Lois notes that he looks like a human cigarette.
Community content is available under
CC-BY-SA
unless otherwise noted.