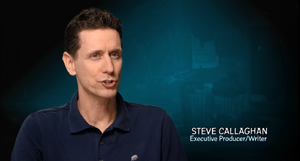 Steve Callaghan is an American television writer and producer who is best known for his work on the animated series Family Guy. Callaghan has been with the show since its conception in 1999 and has been the lead writer behind such episodes as "Fifteen Minutes of Shame", "The Thin White Line", "Mr. Saturday Knight" and "To Love and Die in Dixie". He ghostwrote the tie-in book to the series, titled Family Guy: Stewie's Guide to World Domination and has done voice acting for the show. For many seasons, Callaghan and Mark Hentemann served as showrunners of Family Guy. Following Richard Appel's return as showrunner, he and Hentemann will remain as executive producers.
Over the years, Callaghan has worked on the CBS comedy Yes, Dear as well as the MTV comedy 3-South. Steve has also appeared on Merv Griffin's Crosswords and Wheel of Fortune, which may be behind Peter's appearance on the show in "I Take Thee Quagmire".
His name is used for the Griffin opponents on Family Feud in "Big Man on Hippocampus", the Callaghan Family.
In January of 2013, Steve was promoted to executive producer and showrunner of American Dad! but returned to Family Guy following that show's switch to TBS.
Other episodes written
Season 4:
Season 5:
Season 6:
Season 8:
Season 9:
Season 10:
Season 11:
Season 12:
Season 14:
Season 15:
Season 16:
Season 17:
Season 18:
Community content is available under
CC-BY-SA
unless otherwise noted.