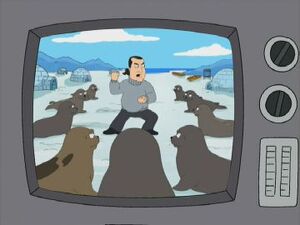 Steven Frederic Seagal (born April 10, 1952) is an American action film actor, producer, writer, martial artist, guitarist and a reserve deputy sheriff. A 7th-dan black belt in aikido, Seagal began his adult life as an aikido instructor in Japan. He became the first foreigner to operate an aikido dojo in Japan. He later moved to the Los Angeles, California, area where he made his film debut in 1988 in Above the Law. Later films include Under Siege (1992) and Under Siege 2: Dark Territory.
Seagal appears on television fighting seals in the Arctic for killing a village's fish in "E. Peterbus Unum".
When Peter decides to face his bully of a sister Karen Griffin in "Peter's Sister" by wresting her, Joe tries to help by arranging some combat pointers with Steven. However, all the guys can only focus on how overweight he has become.
The guys watch Marvel's The Offenders, a parody of The Avengers featuring sexual predators in "HTTPete" in which Steven is one of the members of the group, having been accused and sued multiple times for sexual assault.
Community content is available under
CC-BY-SA
unless otherwise noted.