Tales of a Third Grade Nothing
Peter repeats the third grade.

Season: 7 Episode: 6
Total Episode Count: 116
Prod. no.: 6ACX10
First Aired: November 16, 2008

Guest Starring: Bob Barker, Andy Dick, Carrie Fisher, Debbie Reynolds, Frank Sinatra Jr., Sinbad, Bruce Jenner, Elisha Cuthbert
Featuring: Peter Griffin, Brian, Stewie Griffin, Frank Sinatra Jr.
Also Appearing: Lois, Meg, Chris, Cleveland, Quagmire, Bruce, Angela, Omar, Judge, Michael Jackson, Diane Simmons, Tom Tucker, Andy Dick, Dakota, New Bedford, Mrs. Wilson, Quagmire's kids, Abraham Lincoln, Mary Todd Lincoln, Suzy, John Wilkes Booth, Fjurg Van Der Ploeg, Sinbad, Bruce Jenner, Kim-Lee Sung, Matt Damon, Leonardo DiCaprio, Mike and Stacy, John Hammond, Emperor Palpatine, Prince, Yosemite Sam
Musical Numbers: Guys & Dolls, Take Me Out to pLace Tonight

Director: Jerry Langford

Assistant Director
:
Shawn Palmer
,
Jansen Yee
Writers
:
Alex Carter
Storyboarders
:
Mark Covell
,
Annie McMillan
,
Michael Rundle
Plot
: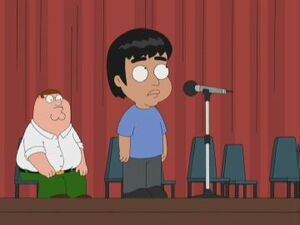 Peter is sent upstairs by his boss to deliver shipping reports to the CEO. On his way to deliver the reports, he decides to go into the executive bathroom. When he discovers how lavish the bathroom is, he becomes motivated to do well at work so that he can become an executive. But while trying to impress his boss Angela, he inadvertently blows up part of a children's hospital. Nevertheless, she is impressed by his improvement at work and recommends an open executive spot for him. However, Human Resources tells him he must first complete the third grade in order to qualify.
Peter does badly at school but graduates after correctly spelling the word "lesbians" in a spelling bee. When Peter goes back to work, Angela tells him that he will be going to jail for the hospital explosion instead of getting promoted. Fortunately for him, he receives only one week in prison and is told he will be released the following Sunday night at 9:00...Family Guy's usual time slot.
Meanwhile, Frank Sinatra, Jr. comes back to town to perform with Brian at the Quahog Cabana Club. They buy the establishment and let Stewie transform it into a modern dance club called pLace. At first, Frank and Brian feel uncomfortable, but their feelings change once they get into the club life themselves. However, the club loses its popularity once Andy Dick is seen there.

Community content is available under
CC-BY-SA
unless otherwise noted.