Wiki Targeted (Entertainment)
Play Sound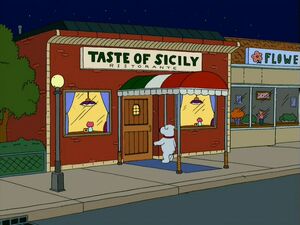 Taste of Sicily Ristorante is an Italian restaurant in Quahog, Rhode Island.
Brian gets kicked out of it in "Brian: Portrait of a Dog". The ejection was brought on when he questioned their authenticity by accusing them of having fifty Puerto Ricans working in the kitchen. As he is leaving, he encounters Lady and the Tramp.
Brian takes an unintelligent girl named Tina there on a date in "Brian Wallows and Peter's Swallows".
Peter and Lois both had dates with Jennifer Love Hewitt and Quagmire, respectively, when they were on a trial separation in "Stuck Together, Torn Apart". After watching Love Hewitt make out with Peter, she attacked the former in a jealous fit of rage, forcing her to leave and allowing the couple to reconcile. Once they left, Quagmire joined Love Hewitt at the bar, planning to get her drunk so he could sleep with her.