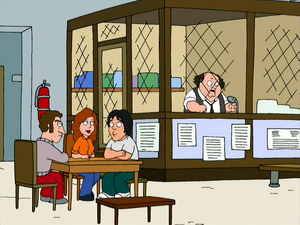 Taxi is an American sitcom that originally aired from 1978 to 1982, on ABC, and from 1982 to 1983, on NBC. The show focused on the employees of the fictional Sunshine Cab Company, and its principal setting is the company's fleet garage in Lower Manhattan. Among Sunshine Cab's drivers, only Alex Rieger, who is disillusioned with life, considers cab-driving his profession. The others view it as a temporary job that they can leave behind after they succeed in their real careers. Elaine Nardo is a receptionist at an art gallery. Tony Banta is a boxer with a losing record, and Bobby Wheeler is a struggling actor. John Burns, who was written out of the show after the first season, was working his way through college. The rest of the drivers take pity on "Reverend Jim" Ignatowski, an aging hippie minister, who is burnt out from drugs, so they help him become a cabbie.
In "There's Something About Paulie", Peter explains to a complaining Lois the interesting characters one meets in taxis, the TV show, Taxi, is then referenced and parodied. The show's characters Alex Rieger, Tony Banta, Louie DePalma and Elaine Nardo are referenced. While "the foreign guy who works in the garage" that Peter was referring to was actually the character Latka Gravas (played by Andy Kaufman), he is replaced by Jackie Chan.
Community content is available under
CC-BY-SA
unless otherwise noted.